This
Kingdoms World
will be a world in Nexus Adventures. The Kingdoms world will feature lots of characters and fun for all players; including but not limited to crafting, cooking, large scale battles and some minigames.
Kingdoms World Areas
Landing Area
Launch Area
Farmyard
Village
Barred Woods (This will be released later)
Barred Ocean (released later)
Barred Mountains (released later)
Barred Field (released later)
Sentinel Outpost
Bat Lord Castle
http://www.brickshelf.com/gallery/FlexV2/LDD/FrightKnightsCastle/frightknightscastleimage2.png
"New_Features"
Fighting (If you attack and enemy they can attack you back, and you may start dueling)
Jousting (in minigames)
Enemies
NPCs
Plexis Grapple (Nexus Force Soldier)
Rook Cruit (Nexus Force Soldier)
Farmer (need name)
Farmer's Wife (need name)
Boy
Girl
Dell Eccus (Village Cook)
Blake Smith (Village Blacksmith)
Village Vendor (need name)
Can Numball (Vendor)
Mace Morningstar (Knight)
Hal Beard (Knight)___________________Note: names changed from Ram Steed, Jefferson K., Blue
Trey Buchet (Knight)_____________________Steel, Armor Steel, Notso Strong and Knight Fall____
Dakota Arms (Knight)
Lance Quintain (Knight)
Sir Mounted (Knight Leader)
Random Villager 1
Random Villager 2
Goblin King
Goblin Guard (Gives daily missions)
Goblin Warrior
Sir Rendir (Knight Prisioner)
Guardian Grunt (near launchpad to Nexus Tower)
Seasons Vendor (will sell seasonal models (ex: During October, he will sell Halloween models))
Missions
"Map"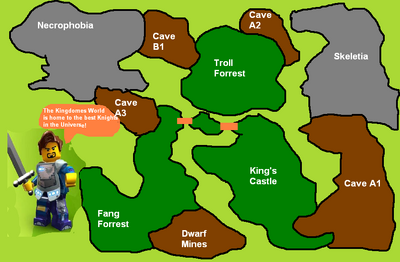 ==
Minigames ==
The Final Joust (in this joust, you battle enemies) (will be released later)
Village Foot Race
Castle Survival I (will be released later)
Castle Survival II (will be released later)
"Properties"
Castle Medium Property (need name) (will be released later)
What Can Be Farmed (These can be sold for coins)
"Pets (When these (none others) are placed on props, they act as farm animals)
Cow
Chicken
Sheep
Pig
Crow
"Weapons"
blacksmith hammer
Knight Sword
Skeleton Scythe
Skeleton Flail
Knight Axe
Knight Bow
Skeleton Lance (Jousting Only)
Knight Lance (Jousting Only)
Vanda's Katana
Duke's Sword
Hael's Cutlass
Overbuild's Saw
Bone Axe
Bow and Arrow
Lightning Fork
Big Pointy Stick
Bone
Llyod's Golden Cobra Staff
Snake
Stick
Lightsabre
Wand
Pets
Pig
Community content is available under
CC-BY-SA
unless otherwise noted.