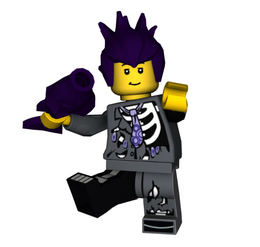 1 Peter 3:15 But in your hearts honor Christ the Lord as holy, always being prepared to make a defense to anyone who asks you for a reason for the hope that is in you; yet do it with gentleness and respect.
Hey I'm Zaxzax12. My in-game name in LU is or was Ninjazack. I'm am Christian and proud to be one! I have many skills that have been given to me by God's grace, one being 3D modeling, rigging, and animating. I also play the guitar, piano, drums, and accordion. I hope this year and the years to come to "Stay Bold" as a Christian, and help spread the truth of God's Living Word.
I am currently helping out LEGO® Tardis Adventures , TheBibleAnimated and am the leader of LNA. I have been doing modeling for LEGO-fan-made-games for about 18 months and plan to continue working on LNA, once this game is finished I will probably not do anymore FMGs (Fan-Made-Games)
My profile picture is a minifig model rendered by QuickMetalMachine, I plan to do a render of my own once I have the time. :) 
My favorite Websites
Community content is available under
CC-BY-SA
unless otherwise noted.